A Better Future for the Planet Earth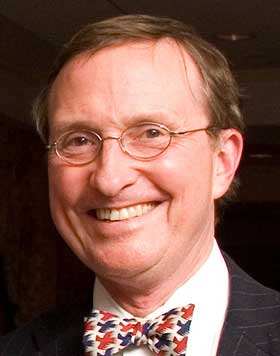 Thomas E. Lovejoy Interview Summary
I. Childhood – High School (1941 - 1959)
I was born in New York on August 22, 1941. My grandfather was from Georgia, in the south of the United States, and moved to New York when he was six. He grew up in Manhattan with three older sisters. After graduating from Yale University, grandfather joined Manhattan Life Insurance Company, and was engaged in insurance businesses throughout his life. He was one of the pioneers  developing hi-risk insurance products.
My mother was also raised in New York. Her father was a prominent architect who designed numerous historically important buildings including the Fuller Building that dominates Fifth Avenue in Manhattan. Unfortunately, I did not inherit any artistic talent from my grandfather and mother; however, I did get the spirit to love anything beautiful. My love of nature expresses it. Since my grandfather and father were also named Thomas E. Lovejoy, I am often called Thomas E. Lovejoy III. However, since "the third" may sound somewhat snobbish, I never introduce myself that way.
Looking back at my background, I was raised in a family environment that helped nurture my interest in biology, nature, and science. I was always told to play outside. My parents had a firm policy not to have television in the house and always encouraged me to read. Accordingly, I have no television viewing habit now. I was always told to study and be a good boy.
My father's educational policy determined my course of life. He was concerned that, being an only child, I might be spoiled by the adults around me, so to develop my spirit of independence, he decided I should go to a junior high boarding school. He made a list of schools to check,, and the first one we saw was Millbrook School 160 kilometers north of New York. It was the only school in the U.S. that had its own zoo, and it was love at first sight for me. I told my father we didn't have to see the other schools. It was decided then and there.
I was told in advance that all students were required to take the biology course, but what I was most interested in was not the subjects of biology or science so much as that zoo. I simply thought that I would take the course in the first grade and get it done quickly. Looking back on what I thought then, I think it was an odd way to see things, but it worked out very well. The zoo is still there you know, and they have an active program breeding endangered species.
I met a great biology teacher, Frank Trevor, who had founded the zoo at the school. His enthusiasm for biology obviously exceeded his level as a junior high teacher, and I was drawn to him only three weeks after entering the school. Even now, I remember the thrilling emotions, the excitement I felt at that time. The class started from blue-green algae and moved onto mammals, During a three-week class, he introduced us all to the world of biology.
After taking many courses taught by Mr. Trevor, I started to understand what we now call "biodiversity" at the age of 14 to 15. I was very fascinated by the beautiful and intellectual attractions of a wide variety of living things, which opened my eyes. I feel I was lucky to have learned at the Millbrook School; otherwise, I might have felt obliged to succeed in the insurance business that was in poor financial shape. I also played the role of student representative of the school zoo.
II. School Days (1960 - 1971)
University
After graduating from high school, I entered Yale University and majored in biology. On admission day, I visited Professor Philip Humphrey who was the freshmen advisor as well as the vice-director in charge of ornithology at the Peabody Museum of Natural History. A week later, on the recommendation of Professor Philip Humphrey, I became a volunteer at the museum. I was also introduced to Dillon Ripley, Director of the museum, who later became the Director of the Smithsonian Institution. Dillon Ripley told me that all biologists with a good conscience should study the conservation of biodiversity at least once.
During the doctorate course, I received individual guidance from Professor G. E. Hutchinson, who was one of the founders of modern ecology. I was lucky to be the last student he formally taught. All the teachers I studied under, from Mr. Trevor at the Millbrook School to Professor Hutchinson at Yale University, attached great importance to the environment. At that time, I could not have predicted that the conservation of biodiversity would become the most advanced research theme in biology; however, all my teachers seem to have had foresight. In addition to the opportunity to receive direct instruction from renowned professors, I was also able to interact closely with them on a human level, resulting in a rich student life.
I had precious experience during my university student days. I took one year off from the school and stayed in Nubia in southern Egypt where the Aswan High Dam was under construction. I had a sense of adventure to observe how the Abu Simbel Temples were segmented in constructing the dam, and I yearned to make some on-site research. During my school days, I had a burning intellectual curiosity about just about everything.  From my father, who was teaching Renaissance art history, I learned various other things such as how to enjoy gardening, good wine and cooking.
Graduate School
After taking the year off, I went back to my university and graduated in 1964. Then, I entered a doctoral program at the same university. I was strongly attracted by East African countries such as Kenya and Tanzania for the study of animals and birds. However, in the summer of 1965, Professor Humphrey gave me a chance to take part in a two-month research project in the Amazon and I became involved in the tropical rainforest project there. He was carrying out a joint research with the Rockefeller Foundation on the ecology of birds and its relationship with epidemiology. I participated in this project and observed migratory birds living in the Amazon using the bird banding survey method.
The Amazon is far larger than we imagine from the map, covering seven countries including Brazil, Bolivia, and Peru. The size of the entire area is equivalent to the total area of 48 states of the United States. Sixty percent of the entire Amazon area is in Brazil, which accounts for about half of all tropical rainforest on the earth. Even the area of an administrative district, Amazonas, the largest state in the South America, is twice the size of Texas. During the period from the 19th century to the beginning of the 20th century, the Amazon was considered one of the most important areas for the global economy, possessing a huge rubber production site. A sumptuous Opera House was even built in Manaus, the capital city of Amazonas.
The Amazon basin at that time was a mostly trackless virgin forest. It was like a dream world for any biologist because there was only one road in the entire area which had a population of three million. At that time, almost no research had been done on the Amazon, since there were very few researchers. They included John Terborgh from the University of Maryland who carried out research in Peru, and a German ecologist who studied fresh water. As a theme of my doctorate, I chose the diversity and structure of birds and trees in the tropical rainforest along the downstream area of the Amazon River. My research theme might never be a best-seller, but it was academically valuable.
It is often considered that the ecology of birds may be more influenced by changes in surrounding areas and forests compared with trees. The most interesting result of our on-site survey was that, since bird species were abundant, they were not easily influenced by environmental changes. On the other hand, other living things were easily affected by changes. Compared with birds, trees are directly connected to the ground and, therefore, more influenced by humidity and environmental changes. Our research on birds made one important step forward, since it showed that birds did not depend on ground conditions.
I spent two years in the Amazon for my doctoral research project. In 1966 I got married, and, after two years, had twin daughters. It was not easy to live in the Amazon because we faced many challenging adventures. We lived in a town 25 minutes to the forest by car. Although we were very careful about our health, my wife got abdominal typhus, and we still don't know how she contracted it.
III. World Wildlife Fund (WWF), current World Wide Fund for Nature, (1973 - 1987)
On the recommendation of the Assistant Secretary of Science of the Smithsonian Institution, I got a position at the WWF, responsible for projects. The WWF was a small organization then, and my employee number was only 13. At that time, the WWF placed the first priority on implementing conservation of ecology in Western hemisphere tropics based on science. Even though the Western hemisphere had much more abundant biodiversity than the Eastern hemisphere, it had no organization that conducted conservation activities. Since Brazil had the largest number of species to be conserved, this project, by necessity, brought me back to Brazil.
First, I visited universities to get to know who investigated what and how their research was concerned with conserving ecology. When I visited Harvard University, I met a graduate student, Russ Mittermeier (laureate of the 1997 Blue Planet Prize) who later founded the Conservation International. I asked him whether he was interested in a conservation program of primates. Two days later, he submitted a proposal to me, which he had drafted without sleep that night. We adopted his program and he was hired by the WWF while I was working there. I was excited about my work because, as part of my duties, I was able to discover promising youths and help them move their specializations forward.
In 1978, we held the world's first international conference on conservation biology in San Diego. Michael Soule, leader of the conference, asked me for financial support through a graduate student Bruce Wilcox. I gave Wilcox the summary of holding a scientific conference with some financial aid, and the result of the conference was wrapped up as Conservation Biology.
In 1980, I projected the extinction rate of species, the first time this had been done, and published it in the Global 2000 Report. This report was commissioned by the Carter Administration and published by the Reagan Administration. I was in charge of endangered species and considered that this problem had been greatly underestimated. So, I proposed to write at length about the extinction rate. There is a significant difference between prediction and projection, and I decided to present a projection to increase public awareness. I reported that about 20% of all species on earth would go extinct by the year 2020. When I observe the present status, I think, my projection was not far from the mark. In the same year, I presented two papers using what was then a new term, "biological diversity," currently shortened to "biodiversity."
In 1982, I was involved in launching the production of the documentary program Nature to be broadcast by the PBS. Thirty years ago, it was very difficult for the WWF to carry forward its environmental conservation activities. This was mainly because those activities were rarely broadcast by television, and, thus, public recognition was very low. To correct this, executives from the WWF and I visited the PBS New York Office Chief to explain the natural phenomena occurring all over the world and the need to raise public awareness about environmental issues. They liked the idea itself, but said that it was not specific enough and they did not have sufficient budget to cover the cost of production. They decided to drop the idea of creating a TV program for the time being but, instead, purchased some versions of a series of the Flight of the Condor broadcast by the BBC. The PBS broadcast these after dubbing the narration. This was the start of the program Nature, which has been running for thirty years.
The reason that this program has gained such high ratings for a long time is, that it allows the television audience to watch the beauty of nature first and then see what a loss it would be if we don't protect it. If the program only showed the destruction of nature, it would have been dropped within a few years. Nature received a great many commendations and has won more than 600 awards, including 10 Emmys. When the program received the first Emmy, I was personally awarded as chief advisor. Although I checked all the scripts at the beginning, I am rarely involved in the production now.
In 1984, I proposed a policy mechanism named the Debt-for-Nature Swaps. Through this mechanism, developing countries would be required to allocate the equivalent of their external debt towards environmental preservation in exchange for having that debt shouldered by funders. This concept emerged from public U.S. Congressional hearings. At these hearings, the effects of the World Bank's multilateral development projects on the environment were set out, and Mr. Jose Lutzenburger, an NGO representative who later became the Minister of the Environment in Brazil at the time of the Rio Summit, attested to the impacts of such projects on the society of his country.
As I was listening to him speak, I thought the issues he presented could not be addressed by the methods proposed at the public hearings. Rather, they must be examined from a different viewpoint. The fundamental problem was, that developing countries were forced to cut their budgets to conserve the environment in order to serve debt payments. In this sense, their debts became causes of environmental destructions. Since I had been an executive at an insurance company, I knew that ameliorating debt and promoting environmental conservation could be done at the same time. I contributed an article to the Op-Ed column of the New York Times, which published my article with a great title, "Save Debtor Nations' Ecology." The idea of the Debt-for-Nature came out of this article, quickly followed by a mechanism. Whether such a project is effective or not depends on the design and method by which it is implemented.
This mechanism was welcomed by environmental conservation organizations, and the first implementation attempt was made in 1987 by the Conservation International in Bolivia, followed by the WWF in 1989. This method was mostly tried in tropical countries such as Brazil, Madagascar, Philippines, Guatemala, and Peru, where extinction of species was a matter of grave concern. I have confirmed that at least 11 countries have implemented this mechanism so far. However, because there is no central organization that manages projects comprehensively, I can't give the precise number of countries that have employed this mechanism. According to a survey carried out by the Nature Conservancy about 10 years ago, total funds amounted to 3 billion U.S. dollars. This mechanism is still in place, but, I learn of projects only by news. It is often misunderstood, but this mechanism is not implemented until debtor countries express their desire to do so.
IV. Biological Dynamics of Forest Fragments Project (1979 - Present)
In 1979, I launched the Biological Dynamics of Forest Fragments Project, said to be the world's longest-running field study. This project started from a discussion with Professor Terborgh at the University of Maryland, who had been conducting research on the desirable size of wildlife sanctuaries; whether or not one large area is better than a number of small areas. This research is associated with a controversial debate on Single Large or Series of Small Reserves of Equal Area (SLOSS) in the mid-1970s. There was no data substantiating which was better. In cases where no data exists, it is not surprising that debate would be overheated.
This theme leads to the question of how to design the best sanctuary to protect biodiversity. At that time, although we understood the possibility that some species on an artificial island, completely separated from its mainland, might go extinct, we were unable to come up with any clear solution. Therefore, I decided to seek an answer for this theme in the future. At the end of 1976, I offered a proposal at the WWF executive committee, suggesting that it might be possible to implement a large-scale conservation project if the government of Brazil would shoulder half the cost.
In the following year, I flew to Brazil with an air ticket provided by the U.S. National Science Foundation and obtained a result from the National Institute of Amazonian Research (INPA), which no one could have expected. They agreed that the government of Brazil would provide 600 km2 of land in the north of Manaus, the capital city of the state of Amazonas, and that Herbert Schubart from the INPA and I would jointly lead the project. This was how the joint project between the United States and Brazil started. In 1986, my close friend, Paulo Nogueira Neto, then the Minister of the Environment of Brazil, lobbied the President of Brazil to designate the land as a legally authorized wildlife sanctuary.
In total, we created seven sanctuaries; three of 1 hectare, three of 10 hectares and one of 100 hectares. Using the bird banding survey method, we released birds, each tagged with a ring inscribed with a code and number. We traced them based on the different sizes of sanctuaries respectively to collect accurate data on the movements and lifespan of the birds. Our survey covered all kinds of birds, from larks to hawks. The nets we used to catch them were produced in Japan.
In 2003, after conducting research over 15 years, I came to the significant conclusion that a single large area would be better than a number of small areas in protecting ecosystems, and published our findings in a paper. The result of the field survey showed that, where a forest was fragmented into a 100-hectare area, half of the birds would be extinct within 15 years. I think that this paper is the most valuable among the more than 600 I have published so far.
After publishing the paper, I received a great deal of feedback, some of which was highly critical of my conclusion. However, most of the criticism was based on a misunderstanding of details or differences in interpretations. It was clear that the paper had inspired many researchers, which proved the importance of the field survey. At the symposium held in Canada in June 2012, for example, two panelists stated that they had been encouraged by our project. It was very interesting, too, that as soon as we launched the project, the government of Brazil set aside a large area of land for a wildlife sanctuary. This policy suggested that the government had appreciated the significance of our research results.
To date, hundreds of researchers and students have participated in the project. Many students joined from Europe, the United States, and Australia; however, there were almost no students from Brazil. People from the Amazon seemed indifferent. No one from Japan participated in the project either. More than 150 students earned their masters or doctorate degrees from this project.
We always have difficulties in raising funds. We collect funds from various fields including individual scientist's donations. I cannot count how much I collected since we had started this project; but I have always struggled to raise money. The project started as a joint endeavor between the WWF and INPA. In 1987, however, when I moved to the Smithsonian Institution, I brought the project with me. I thought a long-running research project like ours was more fitted to the Smithsonian Institution than the WWF since they basically implement practical activities rather than pure research.
Thirty-three years have passed since the project started. Even after my retirement, to ensure this project survives me, I will take some necessary measures within a few years. I have also contributed to the formulation of Brazilian environmental policies. Along with climate change, the problems of habitat extinction and area fragmentation clarified by this project have come to be regarded as one of the biggest threats to biodiversity.
V. Smithsonian Institution & George Mason University (1987 – Present)
Smithsonian Institution (1987 - 1998)
In 1987, I started working at the Smithsonian Institution as the Assistant Secretary for External Affairs. The Smithsonian Institution is a complex organization owning dozens of art, science and historical museums as well as national parks, and research institutions, all mainly located in Washington D.C. and New York. Most of the funding comes from the United States Congress. The Congress was very happy with my assuming this position close to the Smithsonian's top management because of my knowledge of the environment. I had immediate discussions with Timothy Worth, a congressman as well as the top of the United Nations Foundation, and we agreed to rename the department from External Affairs to the Environmental and External Affairs. In 1994, I assumed the post of Counselor in charge of biodiversity and environment and was responsible for conservation biology until 1996.
Science and Environment Advisory Council under Three Presidential Administrations (1989 - 2009)
From 1989 to 2009, I served the Reagan, Bush and Clinton Administrations as a science and environment advisor. Although in an unofficial capacity, I still give advice to presidential administrations. Since I assumed the position in the last year of the Reagan Administration, there was not much advice I could provide at that time. At a conference on climate change, when someone said, "climate change is unproven," I objected and answered, "Many phenomena seen in this world are unproven, and we have to address such unproven problems." I remember that no one had a response.
President George Bush Senior had a deep appreciation of the importance of science and invited Allan Bromley, a physicist and professor at Yale University, with whom I had conducted the co-research project in Brazil, as the Science Adviser to his administration. Bromley designated me as a member of the Science and Environment Advisory Council and I worked on a wide range of environmental issues, including climate change and population. During the Clinton Administration, I took a half-year off from the Smithsonian Institution to serve as the Science Advisor to Bruce Babbitt, the Secretary of the Interior. I served as a Co-Chair of the Resource Committee with James Baker, the previous Administrator of the National Oceanic and Atmospheric Administration, to work on the development of specific measures. We were engaged in a wide range of projects such as the establishment of the National Biological Survey and management of the Mississippi River. My phone was connected directly to the Office of Science and Technology, headed by the President's Science Advisor.
World Bank (1999 - 2002)
From 1999 to 2002, I worked for the World Bank President as his Chief Biodiversity Advisor. I led a one-million-dollar research funded by the World Bank. We assembled data relating to forest destruction, climate change and impact by fire. After modeling these, we concluded that the Amazon as rainforest would reach a tipping point if 20% of its forest were destroyed. Some specialists disagreed with this conclusion. I countered their argument because these issues were too serious to be matters of experiment. At present, 19% of the Amazon's rainforest has been destroyed, which is, indeed, a serious problem.
Heinz Center (2002 - 2008)
I served as the Director of the Heinz Center from 2002 to 2008. The Heinz Center was named after John Heinz, a member of the House of Representatives and  my close friend who died young in an airplane accident. Raising a goal based on a scheme envisioned by Heinz and his wife, the center has been formulating policies to solve environmental problems with the cooperation of government, industry, academic circles and environmental groups. The largest achievement of the center so far is to have published a report on the current state of the ecosystem in the United States.
George Mason University (2000 - Present)
I have been teaching Environmental Science and Policy at the George Mason University since last year. This is my first experience teaching at a university. I enjoy teaching graduate students every Monday. Classes are all about how to solve problems and I teach them by way of combining academic themes, on-sight research along with my own specific activities. I sometimes rush to the airport after class to attend international conferences.
VI. Conclusion
The Amazon has been approaching its tipping point. I am anxious that, if its deforestation continues at the current rate, the size of the Amazon will shrink to one-third within 65 years. About 30 years ago, a Brazilian scientist pointed out that tropical rainforests in the Amazon had the ability to generate about a half of the precipitation by themselves, which for the first time proved the impact of plants on climate. Since then, we have continued to discuss the proposition of how much deforestation could trigger damage to natural circulation. The Hardley Center's climate change model initially projected that rainforests in the Amazon would dry up if the temperature increased by 2.5 degrees, and later revised that figure downward to 2.0 degrees. As a matter of fact, the Amazon was hit by historically worst droughts in 2005 and 2010. Each climate change model predicts that drying in the southern and eastern Amazon will become severe, which indicates that the Amazon might no longer be able to support its rainforests.
The reason for my single-minded pursuit of the same research theme over half a century lies in my love of biology and nature. Over long years I have seen many phenomena in the world of biology and nature. I have also observed the co-relationship between climate change and biodiversity for 25 years. International negotiations always set the goal of decreasing global temperatures by 2℃ and reducing greenhouse gas concentration to 450 ppm or lower. However, I think these figures are too high. If the goal is set under these figures, I believe that a tropical zone without coral reefs would emerge without doubt.
I have been trying to persuade concerned parties to revise these figures. My ultimate goal is to reduce the greenhouse gas concentration by 50 ppm to restore the ecosystem on a global scale. Even if these figures sound unrealistic, I don't think of them as reckless or unreasonable. As the last mission of my life, I will do my best to make everyone aware of the importance of managing the earth as a biophysical system. In order to enlighten the general public environmentally, I actively give lectures and publish articles in newspapers and magazines even unrelated to science. If requested, I lecture anywhere including my granddaughters' kindergarten, since I believe it is very important to talk to audiences directly.